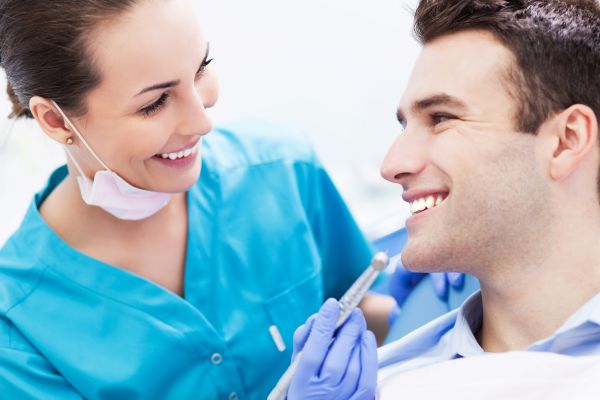 Receiving a teeth cleaning can be a great way to ensure teeth stay healthy and there are not any serious oral health concerns that develop with the teeth and the supporting structures. By having a full understanding of what each teeth cleaning type does and is used for, you can gain a better understanding of what is needed to keep your teeth healthy and your smile looking great.
Different types of teeth cleaning
There are different types of teeth cleaning procedures, and the type your dentist is likely to utilize relies heavily upon your specific oral care needs.
The following are the four main types of teeth cleaning procedures.
Prophylaxis cleaning
A prophylaxis cleaning is a teeth cleaning procedure that is mainly used on individuals with an overall healthy mouth. A prophylaxis cleaning is designed to perform routine maintenance, such as removing an expected amount of tartar and plaque from the surface of teeth, gums and in between teeth.
For those who visit the dentist regularly and practice good oral hygiene, a prophylaxis cleaning is likely to be the recommended teeth cleaning procedure. Although those who receive a prophylaxis teeth cleaning generally have a fairly healthy mouth to start with, it can help individuals remove unwanted plaque and any minor stains that exist on the surface of the teeth.
Scaling and root planing
Scaling and root planing is a slightly more invasive teeth cleaning procedure (although it is non-surgical) that involves a deep cleaning of the gums, gum line and other supporting structures of teeth.
Scaling and root planing is often recommended for individuals who suffer from gum diseases such as gingivitis or periodontitis. Since scaling and root planing involves smoothing out the surface of the tooth root and removing any tartar and plaque that exists, it can at times take multiple dental visits to complete.
Gross debridement
In the event an individual has not visited the dentist in several years, there is likely to be a fair amount of plaque that has built up on the gums, teeth and in between teeth. Subsequently, a gross debridement, which is a deep cleaning used to remove tartar and plaque in all areas of the mouth, is often utilized for individuals who have not visited the dentist in a while.
However, not everyone who has not visited the dentist in a while receives a gross debridement. The first thing the dentist does is perform an oral examination. After the oral exam, the dentist decides whether a routine prophylaxis teeth cleaning is enough or if a gross debridement is needed before the prophylaxis cleaning.
Periodontal maintenance
Periodontal maintenance refers to routine maintenance for individuals who suffer from serious oral concerns. Most notably, periodontal maintenance may be provided for individuals with gingivitis or periodontitis.
Periodontal maintenance generally includes frequent visits to the dentist to clean the entire area of the mouth. It is usually performed over a specified amount of time or until all oral health concerns are properly dealt with and the symptoms of gum disease are managed and fully under control.
Request an appointment here: https://www.olivefamilydentist.com or call Olive Family Dentistry at (818) 483-9069 for an appointment in our Burbank office.
Check out what others are saying about our dental services on Yelp: Dental Cleaning and Examinations.
---
Related Posts
August 7, 2019
A dental checkup is an important part of maintaining good oral health, and there are many different oral health and cosmetic complications that a dentist can detect on a routine visit. It is encouraged that …